Metaverse events are becoming an essential part of the new digital frontier. They take many forms but usually involve industry professionals coming together to discuss metaverse-related topics. Attending often means being part of the metaverse's large-scale development. Plus, you discover new hardware and software-based creations before anyone else. You'll soon find out what the best metaverse event options offer.
Quick Menu:
Delving Into the Concept of the Metaverse
The idea of metaverse events might seem right out of science fiction. But make no mistake. The metaverse is "fully" in development and still highly experimental. But it's also open and available to anyone who wants to try it. Virtual reality (VR) headsets are the most apparent method to enter the metaverse.
But augmented reality (AR) devices and even items like game consoles, smartphones, and computers can access parts of it. You'll discover a barrier-free, virtual, 3D space when you log into the metaverse. People from all over the physical world can come together in this virtual one. When they do so, they discover a new universe that's always on and allows for fully immersive experiences. It's essentially a parallel digital world that often mirrors the physical one.
The fact that physical limitations don't bind the metaverse can open up boundless possibilities. You can experience most of the best parts of the physical world within the metaverse. And it also allows you to experience fantastical locations and activities. You can explore different takes on the metaverse in the article "Metaverse Meaning; Different Ways of Defining the Metaverse".
What Defines Something as a Metaverse Event?
Metaverse events can be roughly defined as a gathering in which people discuss collaborations, discoveries, and work related to the metaverse. These events primarily center around current and future work on the larger metaverse regarding business opportunities. Buy-ins from companies like Google, Apple, Microsoft, IBM, and Facebook have demonstrated the importance of the metaverse. Experts expect it to be an $80 billion business by 2024. A single goal or subject can't define metaverse events. They're instead better explained by the event's intent and attendees. The gathering needs to involve the use and development of the metaverse to qualify as a metaverse event.
In some instances, this might mean discussions about upcoming software. Or an event might bring people together who might collaborate on a new piece of hardware. It could even be centered on the actual use of those platforms and their anticipated growth in the future.
Best Metaverse Events for Industry Professionals and Enthusiasts To Attend
The continual growth of the metaverse ensures that events focusing on it will be increasingly common. As such, it's not always easy to know which events to attend. What metaverse events have something truly unique and vital to provide to professionals and enthusiasts alike? While new events constantly appear, the following metaverse event options are generally considered the best of the best.
Metaverse Ecosystem Development & Investment Conference Asia Station
Metaverse events often put particular emphasis on specific topics. And this is especially true when specific organizations put events together. The Metaverse Club is highly focused on metaverse-related games, Defi, NFT, blockchain-tech, cryptocurrency, Web 3.0, and similar content. As such, it's little surprise that their Metaverse Ecosystem Development & Investment Conference has a similar scope.
The event brings together over 5,000 companies related to the metaverse. That's a lot of companies, but it's proportionate to the attendee market's size. The event looks at the entire Asia Pacific market. This includes Japan, China, Dubai, South East Asia, and South Korea. Attendees can discover how these unique markets interact with the latest metaverse-related subjects. And it also provides a wealth of opportunities for business-related networking. This event is one of the most important of its kind in Asia for anyone interested in the metaverse or crypto-related subject matter.

Image attribution: Metaverse Club
DeFiCon
Most people know that the metaverse can do a lot of good for many people. But DeFiCon takes that mission to the next level. It's one of the metaverse events that strongly emphasizes the ethos behind the metaverse, DeFi, and peer-to-peer crypto. As such, it's a non-profit endeavor with unsalaried founders. DeFiCon can be considered a charity fundraising event as much as a metaverse event.
DeFiCon members see peer-to-peer crypto as an evolution in human organization. Not just for specific people but humanity as a whole. This philosophy also means that DeFiCon is open to anyone who wants to be a part of it. And attendees are all joined together under the larger banner of a shared cause. Furthermore, all proceeds from the event are donated to charity. DeFiCon is about inspiring people to create a better future while improving the present.

Image attribution: DeFiCon
Metaverse Summit Paris
Paris is well known for its avant-garde fashion scene. As such, it shouldn't be a surprise to discover metaverse events with a similar tone. The Metaverse Summit brings experts and entrepreneurs from a wide variety of different fields together. Avant-garde technology, art, and fashion form part of the larger discussion. But all of this is within a more considerable debate of the metaverse. The summit often acts as a go-between to match up various talents and resources.
Investors and builders might meet up to discuss ideas. Or people with similar ideas might discover the perfect partnership. It also hosts a number of 2-day events. These include a variety of conferences and workshops by metaverse experts, and the event also invites people to participate in a Global Metaverse Startup Competition. This isn't just a competition between talented newcomers. It's also a chance to benefit from an advisory program while pitching new ideas.
Video: Metaverse Summit 2022 Paris Official Trailer
IEEE Conference on Virtual Reality and 3D User Interfaces
The IEE Conference on Virtual Reality and 3D User Interfaces is an example of metaverse events with a special focus on 3D environments. The metaverse extends through a wide variety of different mediums. Everything from 3D vistas to NFT art is part of the metaverse. And it can be accessed through 2D mediums like laptops or even game consoles. Some elements of the metaverse, like the metaverse blockchain, aren't even directly seen by most users.
The metaverse is a huge expanse where the same data can often be seen differently. But the IEEE conference focuses on the metaverse as a 3D environment. Convergence can provide exceptional expertise by focusing on one form of the metaverse. And the event also leverages the metaverse itself to provide its various services. The IEEE conference is provided entirely online so that anyone can join in.
Video: The other way: immersive VR storytelling through biking
AI VR Conference Japan
The AI VR Conference is a metaverse event that seeks to bridge AI and VR. Both of these subjects have ties to the metaverse. And the three-day event aims to highlight enterprise usage scenarios where they all intersect. The conference's subject matter will encompass almost every conceivable take on these subjects. And the event's presenters come from a variety of research positions. Scientists, engineers, and researchers of all sorts will come together in this event to educate and speculate on various topics.
The conference is the perfect place to learn how these topics work together. And it's also the ideal place for metaverse companies with a solid grasp of either VR or AI to discover the potential that comes from merging them. This makes it a perfect chance for two specialized fields with a lot of potential to expand their horizons further.
Global Metaverse Conference
The Global Metaverse Conference is a three-day event held in Santa Clara. The famous convention center is transformed into a creative venue filled with metaverse solutions for vertical markets. The event's overall tone is highly targeted at professional and enterprise-level use of the metaverse. However, the full range of industries on display is truly remarkable. These markets covered in this metaverse event include healthcare, manufacturing, automotive, education, and even healthcare.
The event is carefully designed to guide people through this wide range of topics, as solutions for each industry's challenges include security, AI and speech recognition, security, and data visualization. These subjects are covered within the larger context of platform agnostic metaverse implementations. This frames the discussion around cross-platform solutions, which are shared between metaverse implementations as a whole. For example, new metaverse brands might simultaneously discuss how to leverage crypto projects within multiple platforms.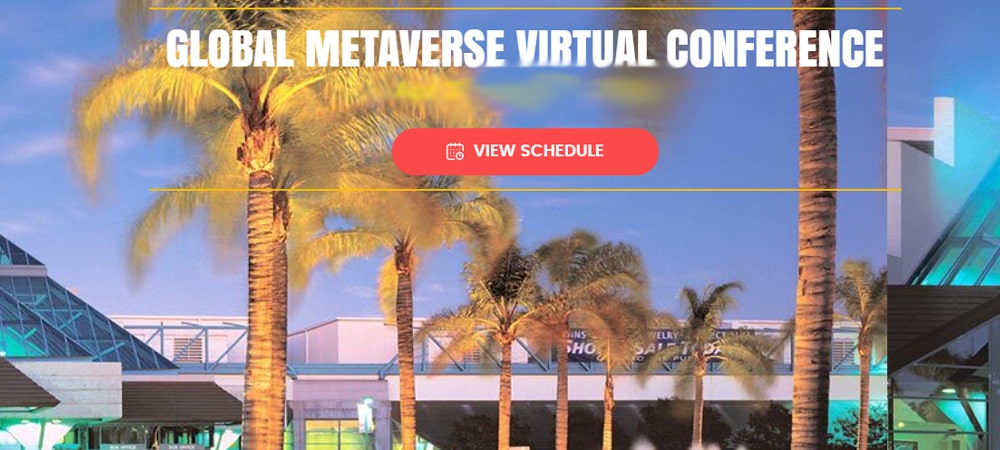 Image attribution: Global Metaverse Virtual Conference
OnMetaverse Summit Italy
OnMetaverse Summit Italy is an Italian metaverse event with an International perspective. This particular event has a strong emphasis on business applications for the metaverse. But the event also considers the more significant impact of the metaverse on the world. How do companies adapt to a worldwide evolution that changes how people relate to every other aspect of their life? The summit seeks to answer that question by highlighting the experiences of people successfully working within this new sphere of influence.
Industry experts and representatives who've successfully leveraged the business side of the metaverse are coming together under a standard banner to discuss the state of the industry. Attendees can even attend training sessions from industry leaders. This is also one of the metaverse events that's held entirely within the metaverse. The Superstudio Cyberspace is a virtual convention center that anyone with a ticket can enter without needing any special equipment.
Video: OnMetaverse Summit 2022
Metaverse Summit – Virtual and San Jose– Economist Impact
The Metaverse Summit is heavily focused on the role of mixed-reality experiences in creating economic and social value. The summit builds on a foundation based on a simple fact. The metaverse is an investment, and people want to maximize their overall return. How can a company accomplish that and successfully plan for a realistic timeline when using such cutting-edge technologies? How do companies effectively work with a business plan in a world with NFT crypto projects, exciting new hardware, and social trends that move at a rapid pace?
The Metaverse Summit brings in some of the earliest metaverse pioneers to answer all of those questions and more. As with most metaverse events, the summit is a valuable resource for people in any business that might benefit from the metaverse. But it's beneficial for people involved in transformative technologies, marketing, innovative design, brand engagement, and social media.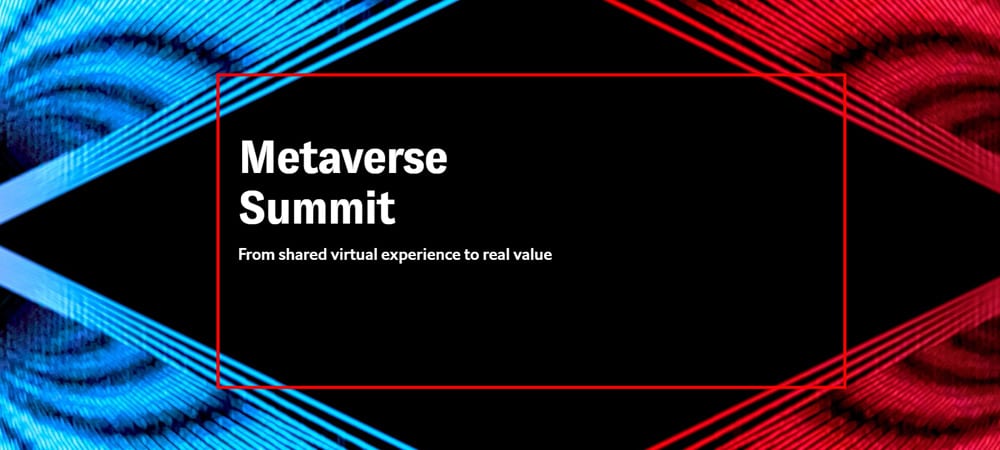 Image attribution: Economist
VRARA Healthcare Forum
As its name suggests, the VR/AR Association (VRARA) is dedicated to virtual and augmented reality. This international organization strives to develop an integrated approach between metaverse technologies and established business practices. The VRARA Healthcare Forum takes that concept and puts a special emphasis on the metaverse's potential within healthcare. Health and healthcare impact almost every aspect of people's lives, which makes it a perfect match for the metaverse's wide reach.
The VRARA Healthcare Forum brings together some of the top leaders in the field to discuss the role of the metaverse in healthcare. This includes case studies, investment return, and metaverse-related technologies best practices. The event provides extensive presentations, talks, and even roundtable discussions. Industry insiders cut through the cliches and assumptions to provide real-world experiences with healthcare and the metaverse. This makes it one of the most crucial metaverse events for people in the healthcare industry.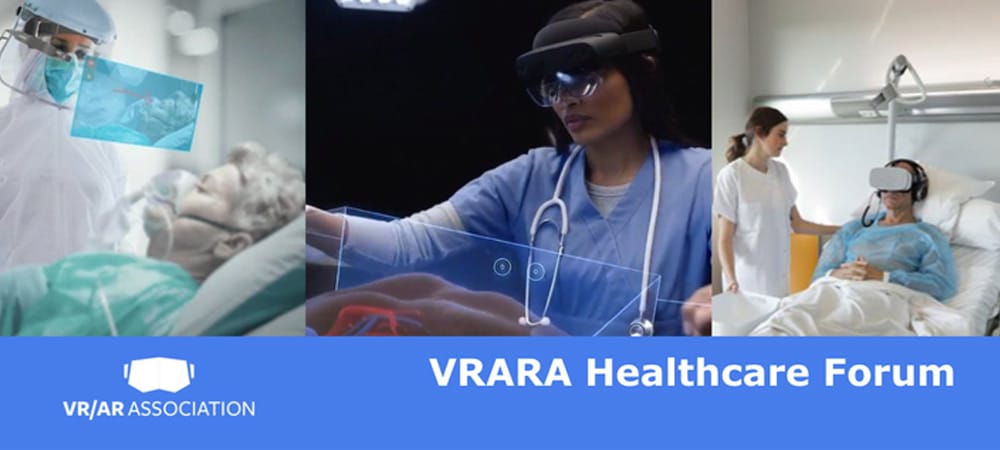 Image attribution: VRARA 
immerse Global Summit Europe
immerse Global Summit Europe covers every aspect of the metaverse. But it's also distinct among metaverse events for emphasizing the atmosphere. The metaverse is host to a multitude of entertainment options. It has obvious business utility, but the metaverse is also an undeniably fun environment. The immerse Global Summit Europe builds on that idea by creating a joyful ambiance. It essentially runs throughout the coastal city of Funchal.
Attendees can enjoy the natural splendor of the setting. But there's also an abundance of great food, drink, and entertainment on hand. However, don't be misled by the atmosphere. The immerse Global Summit Europe is also one of the more technically oriented metaverse events. It touches on some of the more advanced elements of XR design and strategy. The summit also looks into how the metaverse can impact everything from business to location-based entertainment and digital fashion.
Video: Immerse Global Summit Miami Teaser Video
The Relationship Between Metaverse Events and Your Career Path
The various metaverse events typically put a heavy focus on entrepreneurs. It's clear that the metaverse is a booming industry that's creating a multitude of new jobs. And these positions leverage a wide variety of different skill sets. If you're interested in the metaverse, then you can almost always apply your passions to a related position.
For example, visually creative types can work as digital artists. And this holds true for most people's creative passions. You can learn more about the exciting careers related to the metaverse in the article "Metaverse Jobs; Learn Everything About Your Career in the Metaverse".
Metaverse Events and Metaverse Standards Come Together Into a Singular Whole
Collaboration is a common theme among the various metaverse events. But you might be surprised to discover just how important this topic is to the metaverse as a whole. Many of the biggest names in metaverse development have come together under the banner of the Metaverse Standards Forum.
And in a sense, it's one of the larger metaverse events. The group aims to foster discussion and collaboration to enable metaverse systems to work together. You can discover the forum's history, operation, and goals within the article "Metaverse Standards Forum; What Is it & Why Is it Needed?".
Metaverse events have a lot to offer, no matter your particular focus. But one of the best things about the metaverse, and events, is that they're always growing. And you can be a part of that process.
Did You Like This Article About Metaverse Events?
You might also be interested in the following articles: