This article is available in the following languages:
Meme coins and NFTs are two of the hottest topics in the crypto world today. The Bored Ape Yacht Club (BAYC) is probably one of the most prominent NFT collections around the world today. The team behind this famous Web3 project has successfully consolidated some of the most valuable NFT collections, including the Mutant Ape Yacht Club (MAYC), since its inception in April 2021.
Due to the massive popularity of the Bored Ape Yacht Club, its governance token, ApeCoin, has been one of the most popular cryptocurrencies, with a market capitalization of $3.37 billion, since its launch in March 2022.  It serves all the communities related to the BAYC ecosystem, including the Mutant Ape Yacht Club (MAYC) and other NFT collections. ApeCoin fuels the governance of APE DAO – the DAO specifically created to look after the affairs of the BAYC/ApeCoin ecosystem.
As far as BAYC and MAYC are concerned, both stormed into the NFT world by offering unique features beyond their attractive ape cartoons and are now considered the flagship NFT projects by many. Many celebrities, including Pris Hilton, Snoop Dogg, Jimmy Fallon, etc., are huge fans of BAYC and own the Bored Ape NFTs.
Yuga Labs, the creator behind BAYC, recently acquired two popular NFT projects, Meebits, and CryptoPunks, from Larva Labs in March this year. Yuga Labs is the driving force behind the success of BAYC, and they have played a significant role in bringing together two of the most popular concepts of the crypto world, NFTs and meme coins, under one roof. Coinbase is also bringing its three-part movie series, The Degen Trilogy, in partnership with Tuga Labs, based on BAYC and MAYC.
What is ApeCoin?
ApeCoin is the governance and utility token of the Bored Ape Yacht Club community. In simpler terms, ApeCoin powers the Ape ecosystem. ApeCoin is a type of ERC-20 token. It is a type of build-it-yourself cryptocurrency based on the Ethereum blockchain.
APE crypto was created in March 2022 by a group of developers from Yuga Labs. Following the launch, all investors in the Bored Ape Yacht Club (BAYC), Mutant Ape Yacht Club (MAYC), and all related NFT collections received the ApeCoin (APE) through an airdrop on 18th March. "Introducing ApeCoin ($APE), a token for culture, gaming, and commerce used to empower a decentralized community building at the forefront of web3," the official Twitter handle of the ApeCoin said.
Due to the massive popularity of the Bored Ape Yacht Club brand, this airdrop has been one of the most anticipated in the NFT community. ApeCoin was launched by ApeCoin DAO. It is a new governing body composed of all APE holders. Its purpose is to collect community proposals, which token holders can then vote on. The supply of ApeCoin is limited to 1 billion.
The Ape Foundation handles day-to-day DAO administration, proposal management, and "other tasks that ensure the DAO community's ideas have the support they need to become a reality." It serves as ApeCoin DAO's legal foundation. The board members of ApeCoin DAO are responsible for looking after certain kinds of proposals. This board consists of 5 high profile crypto experts:
Reddit co-founder Alexis Ohanian
Head of FTX's venture and gaming arm Amy Wu
Maaria Bajwa of Sound Ventures
Animoca Brands' Yat Siu
Dean Steinbeck of Horizen Labs
The board members' tenure is 6 months, and they hold the right to vote on the future board members.
How does ApeCoin work?
ApeCoin DAO is a decentralized autonomous organization (DAO) in which all APE token holders can vote on governance issues. They have the authority to allocate funds to the Ape Ecosystem, establish governance rules, select projects and partnerships, and so on. After the DAO members vote on the proposals, the APE Foundation carries out the community-led governance decisions. ApeCoin employs a Proof-of-Work (PoW) consensus mechanism to validate transactions on its blockchain.
The tokens are distributed to provide the ApeCoin DAO with continuous access to the Ape Ecosystem. 62% of all apecoin are allocated to the Ape Ecosystem Fund, which will support all community-driven initiatives that ApeCoin DAO members will vote on. ApeCoin also grants access to exclusive games and services in the ApeCoin ecosystem.
ApeCoin is used as a reward for players in Benji Bananas, a play-to-earn mobile game created by Animoca Brands. Benji Bananas provides a membership pass ('Benji Pass'), an NFT that allows its owners to earn special tokens when playing Benji Bananas and exchange those tokens for ApeCoin. With time ApeCoin is expected to have more use cases.
How to Buy ApeCoin in India?
You can buy ApeCoin in India via WazirX, India's most trusted cryptocurrency exchange, by following these simple steps listed below:
#1 Sign Up on WazirX
To begin with, create an account on WazirX by clicking here or download our crypto trading app.
#2 Fill in the Required Details
Put in your email address and choose a secure password.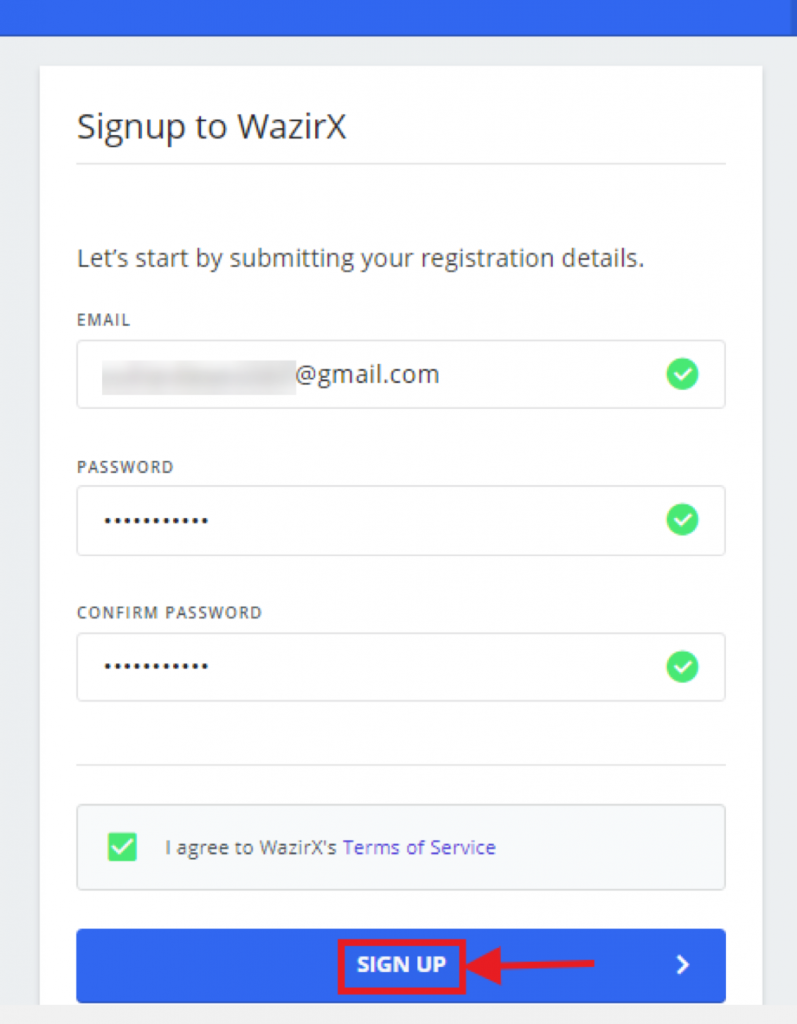 #3 Email Verification and Account Security Setup
Next, verify the email address by clicking on the verification link you received in your inbox. Following that, you have two options to ensure the security of your account – the authenticator app and mobile SMS – as shown in the image below.
Remember that the authenticator app is more secure than mobile SMS because there is a risk of delayed reception or SIM card hacking.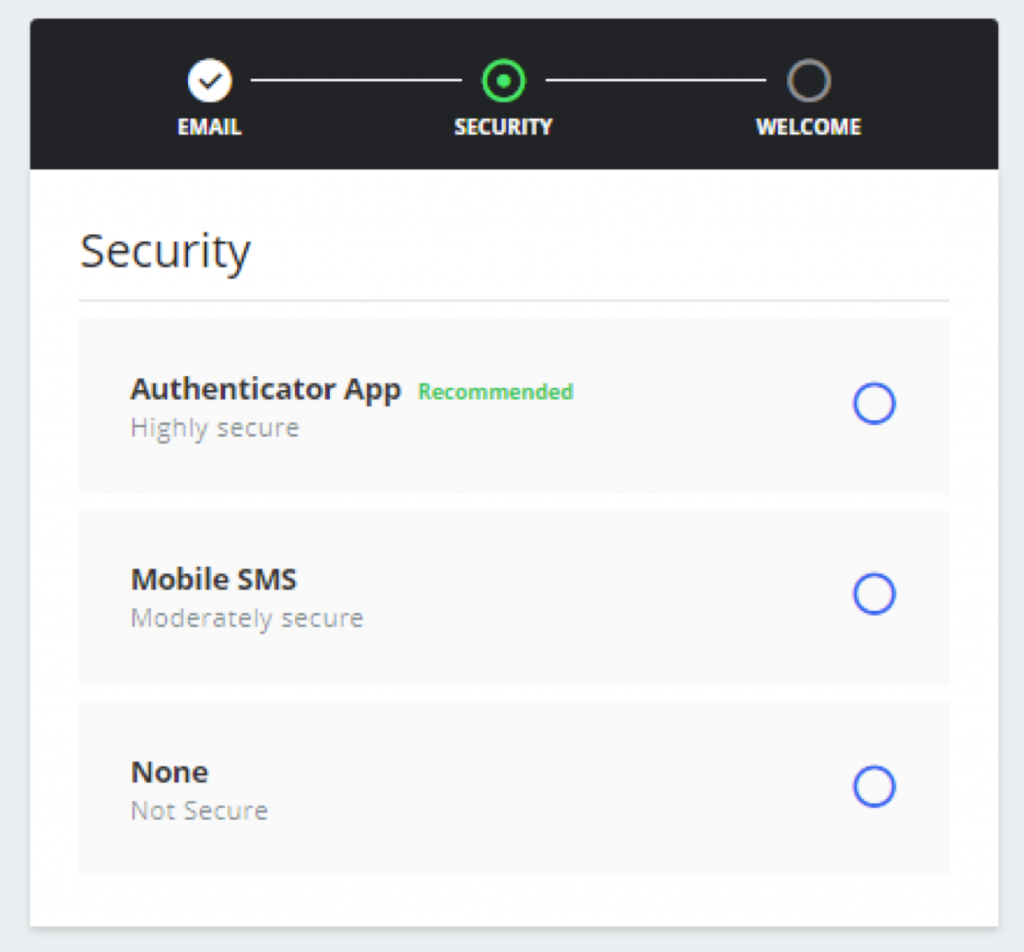 #4 Choose Your Country and Complete KYC
After selecting your country, complete the KYC process. Without completing your KYC, you can not trade peer-to-peer or withdraw funds on the WazirX app.
To complete your KYC, you need to submit the following details:
Your full name as it appears on your Aadhaar or any other ID proof
Your birth date as stated on your Aadhaar or any other ID proof
Your address as it appears on your Aadhaar any other ID proof
A scanned copy of the document
A selfie of yours to finish the procedure
And you are done creating your account! Within 24 to 48 hours, the account is usually validated.
#5 Transfer Funds to Your WazirX Account
After you have linked your bank account to your WazirX account, you can deposit funds into your WazirX wallet. The platform accepts deposits in INR using IMPS, UPI, RTGS, and NEFT. You can start with a minimum of Rs. 100 in your WazirX account, and there is no maximum limit.
To deposit funds, log in to your WazirX account and select "Funds," as seen in the image below. Then select "Rupee (INR)," and then click on "Deposit."
#6 Buy ApeCoin on WazirX
You can buy ApeCoin using INR through WazirX. Check the APE to INR rate from here. Now, log in to your WazirX account and select INR from the "Exchange" option. On the right side of the screen, you will see all price charts, order book data, and an order input form.
Make sure to look at the ApeCoin crypto price in India before filling out the buy order form. Click on "Buy ApeCoin." The form should look the same as the one shown for a BTC order in the image below.
It will take some time for the order to be carried out. But as soon as the order is executed, you will receive the ApeCoin coins you purchased in your WazirX wallet.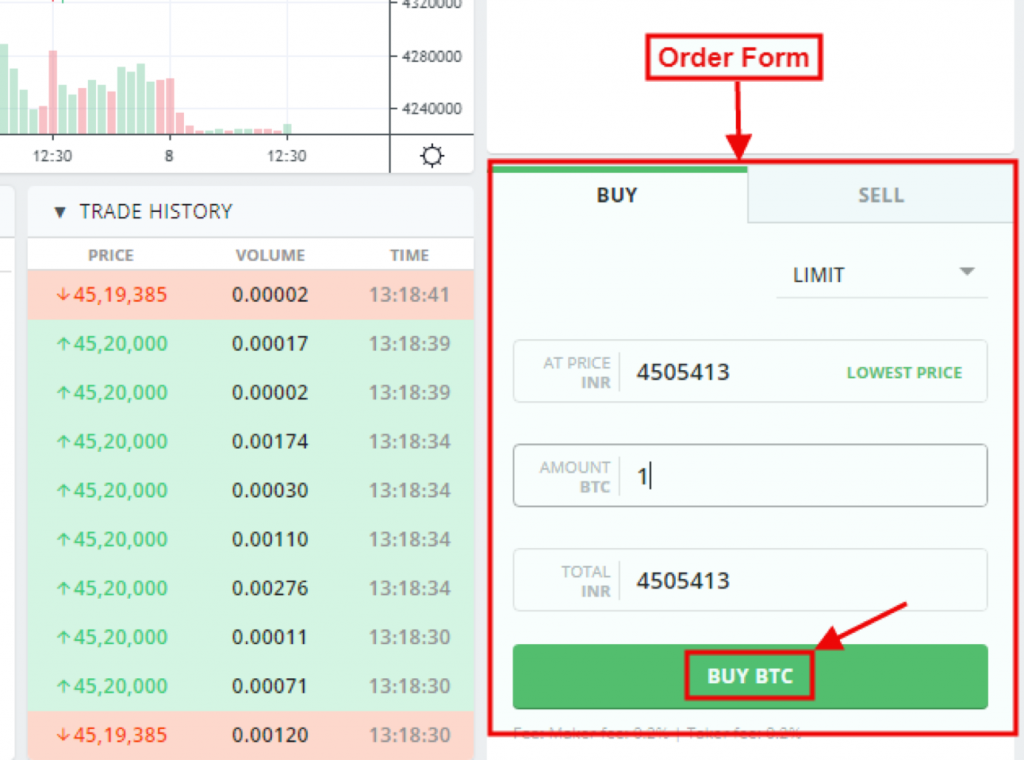 Future of ApeCoin
ApeCoin currently has limited functionality other than membership in the ApeDAO, which oversees the governance of the ApeCoin token. However, the future roadmap reveals that there will be utilities for token holders, particularly when combined with the underlying NFTs.
ApeCoin DAO will gradually integrate the proposal and voting mechanisms into a full, on-chain platform in a form determined by the community. The DAO will accomplish this by:
Hiring DAO members to handle administrative, project management, and moderation tasks in place of the company's appointed personnel
Putting together a community steering committee
Putting on-chain voting into action
Annual voting to select members of the DAO's Board of Directors (the initial Board is in place for a shorter term of 6 months)
ApeCoin is currently ranked 27 in the crypto world. Even though the price of Ape crypto at the time of writing is $19.67, it is expected that ApeCoin will reach $50-$60 by the end of 2022. Therefore, the APE to INR rate is expected to increase as well. The team behind ApeCoin is continuously working on increasing the use cases of Ape crypto. Due to APE's hype, it has seen a rise of over 1,305% since its launch. Even in the long term, ApeCoin is expected to profit due to the massive popularity of BAYC. The demand for Ape crypto will increase with the growth of the BAYC Ecosystem.

Disclaimer: Cryptocurrency is not a legal tender and is currently unregulated. Kindly ensure that you undertake sufficient risk assessment when trading cryptocurrencies as they are often subject to high price volatility. The information provided in this section doesn't represent any investment advice or WazirX's official position. WazirX reserves the right in its sole discretion to amend or change this blog post at any time and for any reasons without prior notice.