The Basic Attention Token (BAT) is basically a blockchain-based protocol that traces media consumers' time and attention on websites using its web browser, Brave. It is built on Ethereum, where its goal is to proficiently share the advertising money among the advertisers, publishers, and readers of online marketing content and advertisements. The sole purpose of BAT is to let readers experience lesser ads tailored to their likes and interests, along with ensuring that their data privacy is not breached.
Let's start with the basic introduction of the Basic Attention Token (BAT) coin and a step-by-step process for buying BAT tokens in India.
To check the BAT cryptocurrency price in India, click here.
Basic Attention Token (BAT): A Brief Introduction
The Basic Attention Asset (BAT) is a blockchain-based token that tracks consumer attention and time spent on website media content using the Brave browser. Most cryptocurrencies are concentrated on the blockchain, DeFi (Decentralized Finance), data storage, management, and transaction. Still, there aren't many market participants that pay attention to effective online marketing and digital advertising.
The Brave Browser uses the BAT coin, a unique currency, to power a blockchain-enabled digital advertising ecosystem that allows users to see advertisements while maintaining their privacy and earning BAT rewards. This enables fair incentives to consumers for their attention, along with providing advertisers to obtain a higher return on their investment, with the added advantages of tailored advertising for maximum engagement and fewer losses due to fraud.
In the Brave ecosystem, the BAT coin serves as a reward unit that is distributed between users, marketers, artists, and publishers. Advertisers can fund their advertising efforts with BAT tokens as a kind of payment, in which around 70% of these tokens are then given back to users.
How Does BAT Work?
All the BAT transactions that take place get settled on Ethereum, a public blockchain that enables developers to build and deploy unique cryptocurrencies and apps.
Brave Browser
The Brave web browser, created by the team behind the token, is used by BAT. Brave is a liberated browser that promises to load web pages three to six times quicker than competitors' products because it only displays ads to users who have chosen to watch them.
Users of the Brave browser can enroll in the Brave Rewards program, which enables them to contribute BAT to content providers whose work they wish to support or to get payment in BAT in exchange for seeing advertisements.
In the Brave browser, the trackers and advertisements are blocked by default. Ads are only activated if the user agrees to them. After that, users that see native advertisements from reliable partners are rewarded with BAT by Brave.
Micropayments Ledger by Brave
Brave micropayments ledger is all about keeping track of the movement of BAT.
The Brave Micropayments Ledger is designed to enable smart contracts between marketers, publishers, and readers to transfer payments.
For its blockchain, Brave is looking at using zero-knowledge proofs to provide anonymity to stakeholders in online media transactions.
How to Buy BAT Tokens in India?
By following a few simple steps, you can buy BAT tokens in India via WazirX, India's most trusted and widely used cryptocurrency exchange.
Now, you can buy BAT tokens using P2P trade. To learn more about it, click here.
Step 1 – Sign-Up on WazirX
To start trading the BAT token, you should first create your account by signing up on the WazirX platform. Or you can directly Log-in if you already have an account with WazirX.
Step 2 – Fill in the required details.
To sign up, add your email address and create a strong password.
To log in, add your email address and password.
Step 3 – Verify your email account and set up your account security.
The following step is to verify your email address. After signing up, you'll receive a verification link on your email address by which you've just created your account.
On clicking on the link, you'll have two options to assure the security of your account – the authenticator app and mobile SMS (as shown in the image below)
Note: The authenticator app is a more secure way to stay safe when compared to mobile SMS because there's a risk of delayed reception or SIM card hacking.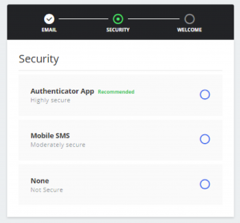 Step 4 – Select your country and complete the KYC.
After selecting the appropriate country, complete the KYC process.
Note: Without completing your KYC, you will be unable to trade P2P or withdraw funds on the WazirX app.
List of things you need to submit to complete your KYC:
Your full name as it appears on your Aadhaar or any other ID proof
Your birth date as stated on your Aadhaar or any other ID proof
Your address as it appears on your Aadhaar any other ID proof
A scanned copy of the document
A selfie of yours to finish the procedure
Just as you submit the above list of documents, you are done creating your account. It'll be verified within 24-48 hours.
Step 5 – Add funds to your WazirX account.
After linking your bank account to your WazirX account, you can deposit funds to the WazirX wallet and start with your first trading on the app.
Step 6 – Buy BAT on WazirX
You can purchase BAT tokens using P2P trade through WazirX. Check the BAT to INR rate from here. After logging in to your WazirX account, you can select INR from the "Exchange" tab. You can see all the price charts, order book data, and an order input form on the right side of the screen.
Before placing your first order, check the Basic Attention Token (BAT) price in India.
Click "Buy BAT" after entering the amount and checking the total INR amount to be paid. The screen will look like this: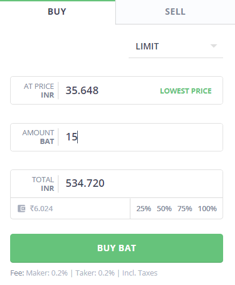 It might take a few minutes for the order to be completed, but as soon as it is executed, you will receive the BAT coins you purchased in your WazirX wallet.

Disclaimer: Cryptocurrency is not a legal tender and is currently unregulated. Kindly ensure that you undertake sufficient risk assessment when trading cryptocurrencies as they are often subject to high price volatility. The information provided in this section doesn't represent any investment advice or WazirX's official position. WazirX reserves the right in its sole discretion to amend or change this blog post at any time and for any reasons without prior notice.