NFTs have taken the world by storm, creating new markets in industries such as gaming, real estate, and even music. In 2021, we saw new NFT projects and marketplaces pop up everywhere, with artists like Grimes, The Rolling Stones, Kings of Leon, and more utilizing the new decentralized technology.
In this article we're going to talk about why the NFT music industry is growing, who is innovating in this space, and the top music NFT marketplaces that you can get started on today.
What is an NFT?
NFTs, or 'non-fungible tokens', are the newest fad in the web3 space. These tokens generally represent a certificate of ownership stored on the blockchain, pointing to a piece of art or other unique object.
This technology brings three key values to the art world:
1. Unable to be replicated
While cheering 'right-click save' is the typical response to NFTs, minting a new NFT with the same metadata does not replicate the NFT. Every transaction is stored on the blockchain, and it is easy for everyone to see every owner and trade by using products such as Etherscan.
2. Ownership and immutability
Blockchain ownership is the closest thing the internet has ever come to real-life ownership. NFTs are platform-independent, meaning that they cannot be altered by any entity outside of the current owner. This gives true and full control to the owner of the token, which is something much needed in today's web.
3. Transparency
With every trade being stored on the blockchain, it is easy to trace the previous owners and actions of the NFT. This not only adds a layer of reliability to the token but also eliminates lawyers and fancy third-party paperwork to validate ownership.
Can NFTs fix the music industry?
The music industry is full of problems with ownership and rights, and it's proven to the world time and time again.
Having to go through a middleman in the form of a record label opens up a world of issues – I'm sure we've all heard of the infamous 'Taylor's version.' Taylor Swift didn't own the music she created, and was forced to record her classics so that she could reclaim control.
This isn't new or rare in the music industry.
Record labels own music they did not write or produce, and artists make next to no profit when their music is streamed on Spotify or Apple Music.
NFTs and the NFT music industry have the power to change this.
Music has always gone hand-in-hand with technology, going from records to cassettes to disks to downloads to streaming in the space of 30 years.
With the uniqueness, transparency, and ownership of NFTs, we can cut out record labels entirely. And we are already seeing this happen.

Infographic by CKOSLEN92
Examples of NFTs being used in music in 2022
Countless artists are making use of blockchain technology in 2022, from technologically savvy artists like Grimes, to the classics such as The Rolling Stones.
Each of them utilize NFTs in a unique and interesting way.
Promotion
Launched in early 2021, one of the most viral examples of NFTs in music was a project by Grimes. She released 10 unique pieces on the NFT marketplace Nifty Gateway, and ended up making a massive 6 million USD in sales.
The pieces ranged from images to videos with original music playing in the background. Some had thousands of tokens available to be traded, whereas others only had one.
Grimes' NFT project was part of her "WarNymph" collection, a persona originally created to promote her album Miss Anthropocene.
Her NFT release may have just been following a trend, but is it an example of how artists will promote their upcoming releases in future? Time will tell.
Raising money
This is perhaps the biggest use case of NFTs in the world today, not only in music. NFT collections are released to make money for a bigger project, with the promise that owning the NFT itself will give access to something when that project is released.
We've seen this in games such as Axie Infinity, and we're now starting to understand how the NFT music industry can utilize this use case too.
Kings of Leon were the first ever artist to release an album as an NFT. While they also released it onto the usual streaming services, the NFT collection offered special perks.
It came with special video album art, digital downloads, and a limited-edition vinyl. The band released other NFTs with the album, including 'golden tickets' that unlock real-life concert tickets in the best seats in the venue.
The NFTs raised 2 million USD for Kings of Leon, and much of that was donated to charities to support live music crews during the pandemic.
Music rights
In 2021, VÉRITÉ became the first artist to auction their music rights as an NFT. She sold 2.3% of the master recording for 11 ETH as an audiovisual NFT on Zora. A few months later, a cryptopunk hodler released an EP as an NFT with only 2000 copies. Each copy allowed the owner to instantly obtain sync rights to the NFT's master recording.
Platforms such as Vezt have popped up recently, allowing artists to sell rights to their music on the blockchain. Vezt calls this an Initial Song Offering, and while it may not work in the same way as an NFT, it shows how blockchain technology can streamline this originally complicated process.
The top music platforms
Now that you understand how NFTs are revolutionizing the music space, it's time to know how you can get involved. Here are the top platforms for you to safely trade music NFTs.
YellowHeart
YellowHeart was launched as an NFT ticketing service for music artists, and has become so much more. They are now the go-to marketplace for genuine music NFT projects, having hosted the first NFT album by Kings of Leon. Their speciality is utility NFTs, such as tickets or special access to more original art, rather than simply trading vanilla NFTs.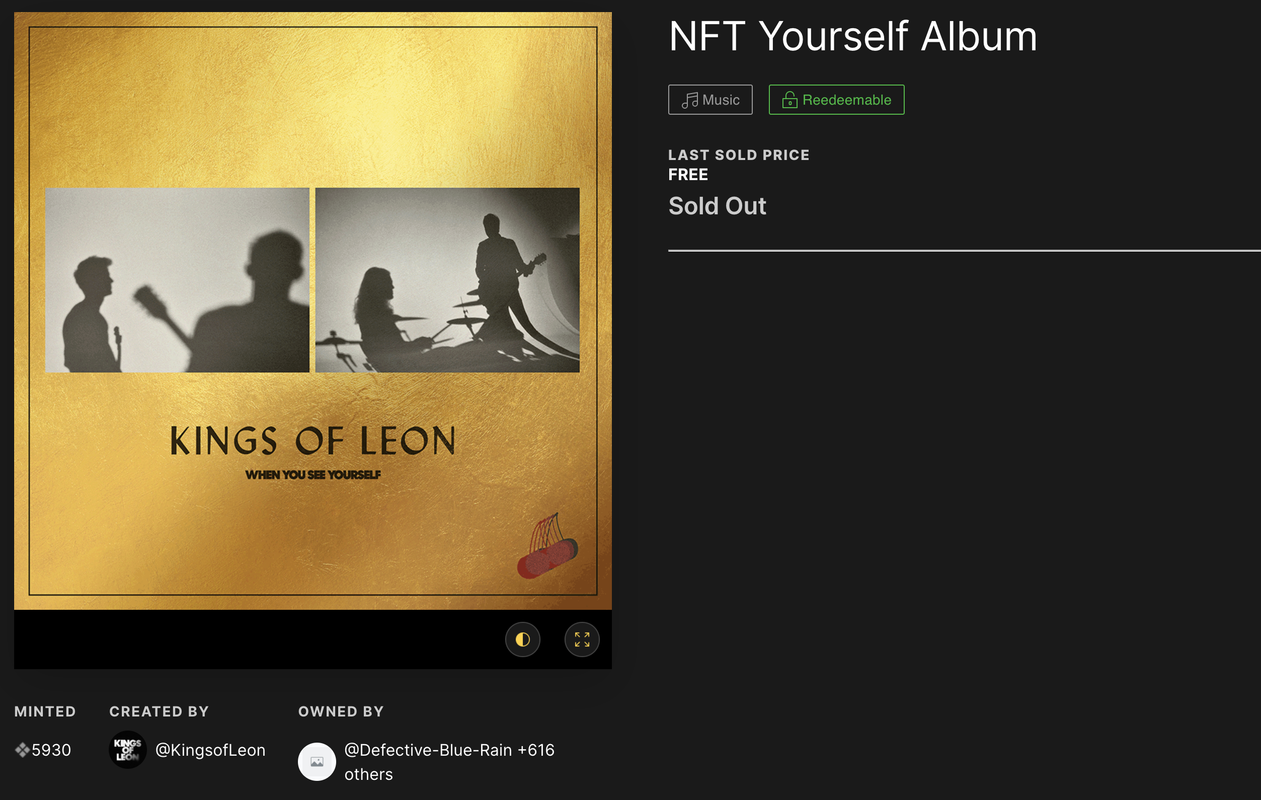 Other artists like the Chainsmokers and Maroon5 have repeatedly backed YellowHeart, and it looks like this platform will be leading the way in the blockchain music space. Josh Katz, founder of YellowHeart, is a music executive himself, and understands exactly what artists and fans need to succeed. His goal is to bring money back into the hands of artists, stating that music has "devalued" impressively over the last two decades.
YellowHeart allows artist to set maximum resale prices, ensure NFTs are distributed to 'genuine fans', and choose to earn a share of tickets resold in YellowHeart's secondary marketplace. It's a marketplace designed by music fans for music fans.
Nifty Gateway
Nifty Gateway took centre stage in the music space when Grimes used it to launch her NFT project. Since then, other artists like Steve Aoki, The Weeknd, Eminem, and more have launched collections. Nifty Gateway is much more focussed on the art rather than the utility, its main differentiator from YellowHeart, and seems to be the platform that music artists use to raise money or release original tracks in NFT form.
Nifty Gateway has a team working on curation and verification, making it a safe space for fans to trade NFTs. It's easy to find good quality collections and art that are released by the artist themselves. It is a marketplace for all sorts of art, not solely music.
Catalog
Catalog, similar to YellowHeart, is an NFT marketplace built specifically for the NFT music industry. It is still very new and does not boast as large of a collection as Nifty Gateway, but is dedicated entirely to music NFTs. Catalog takes $0 profit on sales and claims that it will move towards a completely community-owned approach, perhaps starting a DAO.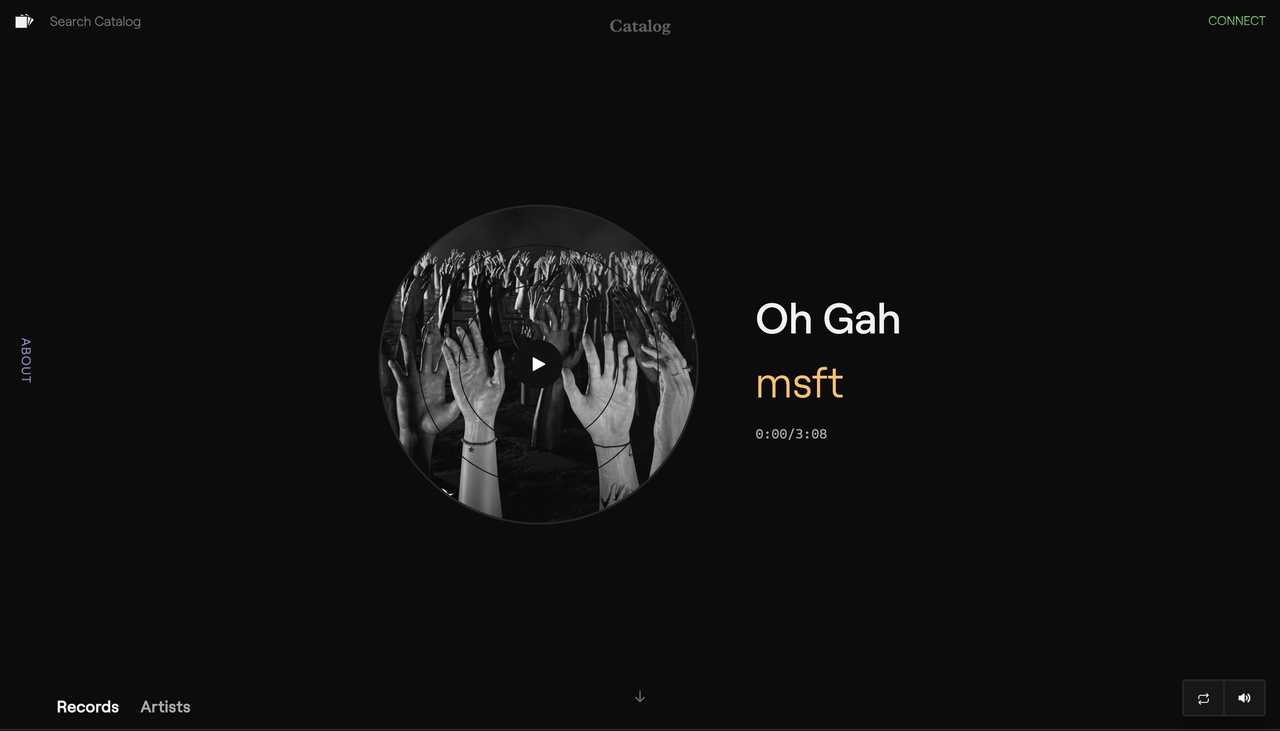 It's difficult to know what makes Catalog stand out. Its music niche is a unique edge, but it hasn't yet attracted the same big names as Nifty Gateway and YellowHeart. The marketplace lacks simple features like sorting by price, and although they have big goals we have yet to see any of this being achieved.
Sound is another NFT marketplace dedicated to music, but offers more interesting features than Catalog. It has three steps for artists to follow – launch a listening party, 'own the moment' where fans can comment on the song, and create a culture. Sound really seems to understand that exclusivity is a huge part of what makes NFT projects successful (see Bored Apes) and has a mission to utilize this in the music space. Their focus on culture and allowing first listeners to share their opinions in an exclusive environment is a unique edge.
Sound has raised millions from a16z and other VCs and has huge goals for shaking up the music space. It doesn't have much support from big artists currently, and seems to generate most of its interest from indie musicians that are not signed by a NFT record label.
OpenSea
The biggest NFT marketplace currently in existence, OpenSea has hosted many music NFT projects. However, none of these have been revolutionary or blown up the music space in any way. OpenSea was created for visual art, especially images, and its interface is not great for music.
OpenSea has a huge share of the entire NFT market and its regulation has been both criticized and appraised. It is a safe space for beginners getting started in NFTs, but users are unlikely to find interesting projects in the music space on OpenSea.
Async Art
Async Art is getting known for classical music, being the first ever platform to list an NFT of a classical musical piece, a 21-minute long song composed by Nicholas Reeves. Async Art has an interesting viewpoint of music, believing it should have the ability to "change its composition." It achieves this by breaking down pieces of music into layers called "stems" allowing the NFT owner to choose what stems should be played.

Publications like Altcoin Buzz have claimed that Async Art is the future of fine art, believing that making changes in real-time gives control to the owner. Art and music can even change depending on real-world triggers, like the time, weather, or changes in the stock market.
Others
There are always new NFT marketplaces being launched, and others include Rarible, E-NFT, Superrare, OneOf, and more. They each provide something new to the music industry, whether that be rights or ticketing, and some music artists have even experimented with multiple of these platforms.
Conclusion
Music is one of the most prominent industries that can be completely shaken up with NFTs, and we are only seeing the beginning.
To learn more about web3, and topics such as NFTs, blockchain, and dApps, check out Hashnode's web3 blog here.