Allegedly, Hypos NFT is a rug pull, according to the expectant holders. The founder, jacidotsol, also known as "Solana_Goddess" is apparently responsible for the fund withdrawal. Some holders are shocked and appalled while others have defended her. Meanwhile, some other solana ecosystem users found it to be unsurprising. But what the hell happened really?
Did Hypos NFT actually scam its holders?
Currently, it's difficult to say with conviction.  Twitter user and self-proclaimed Solana "alpha caller" NateDogg released a thread to explain the situation. But let's focus a the facts.
Firstly, the last post on its twitter account was over a month ago. In this post, Hypos promised "more details in the coming days".
Hypos will soon become a deflationary project, burn x amount of hypos and receive [Redacted]

Should be interesting.

More details in the coming days 👀

Don't sleep….

— Hypos 🦛 (@HyposNFT) October 25, 2022
However, just a few days before that, on the 21st of October, the team also promised a staking mechanism and new website.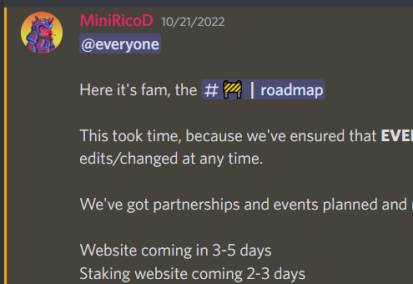 With no results a week later, the FUD started rolling in. Allegedly, the discord was full of holders complaining about broken promises. Shockingly, the holders only received radio silence. While the team claimed staking would launch in just 2-3 days, a week later it was starting to look unlikely. 
Understandably, angry messages flooded in and members of the Hypos staff turned to the NFT project's founder, jacidotsol. However, from that moment on, apparently the staff received no news either. One staff member claims she ignored them for 3 and a half weeks after requesting payment. Another says they were given one worded responses and then ignored again. According to them, neither have access to any of the project's wallets.

So, what about the money?
The Hypos NFT Collection dropped on the 17th October 2022. Despite the bear market, it sold out in around 5 hours. Each Hypos NFT was 0.1888 SOL. According to NateDogg, the project made around $52,690 or 1,678 Sol in net profit. 
Then this is where it gets shady. Allegedly, the project started moving money out of the contract. And not into somewhere safe like a hardware wallet. Instead,  it seems the founder was cashing out a significant amount of project's funds via Coinbase accounts. Now, a grand total of 887 SOL (over $13,000) has been cashed out to exchanges so far.
What's next for jacidotsol?
Firstly, the "Solana Goddess" clapped back at NateDogg for his damning thread. She stated, "First they paint a false narrative; then they pray for your downfall.  I've always been an underdog and will continue to prove people wrong".
But NFT twitter had some conflicting opinions. Many made sure to mention this is not the first shady project jacidotsol may have been involved in. When confronted with questions about Hypos NFT, the Solana Goddess batted the FUD away pretty nonchalantly.
It's not a rug. I'm still here. I'll post a thread about what's happening soon

— Jaci.Sol / Jacidoteth 👑 (@jacidotsol) November 27, 2022
While the future of Hypos is unclear, so is the future of SOL. Unfortunately, with its value down 90%, the elephant in the room is whether Solana will even make it through the bear market. Plus, if it doesn't, the NateDogg vs Solana Goddess feud might not sound so important.
---
All investment/financial opinions expressed by NFTevening.com are not recommendations.
This article is educational material.
As always, make your own research prior to making any kind of investment.