Doodles founder Poopie made a huge mistake yesterday– he became the main character of NFT Twitter. The Web3 leader lashed out in discord at community members after proclaiming that Doodles are no longer an NFT project. The NFT community immediately condemned his actions and the project's floor price plummeted shortly afterward. What happened to Doodles to create this problem?
What went wrong with Doodles?
Doodles spent the majority of 2022 "building in silence". The official Doodles Twitter account rarely posted anything original, instead only retweeting random posts from fans mentioning the project. As Ethereum prices fell from $4,600 to just above $800, holders saw their unrealized gains vanish and began questioning the team's ability (or willingness) to drive value to the community.
The Doodles team's first attempt at creating value for collectors was Space Doodles. Many predicted Space Doodles would be the Doodles version of Yuga's Mutant Ape Yacht Club, a companion collection allowing holders sell a new NFT and take profit without exiting the ecosystem entirely. However, the Doodles team took a different approach.
Instead of releasing a separate NFT collection, they decided to connect Doodles to Space Doodles such that selling a Space Doodle would also sell its associated Doodle. Many longtime holders didn't realize this connection, unfortunately, and sold their expensive Doodles NFT for pennies on the dollar. Overall, Space Doodles was a flop.  New people did not enter the ecosystem and it did not move the needle pricewise for existing Doodles holders.
What happened with Dooplicators?
The next milestone for Doodles was Dooplicators. In May 2022, the Doodles team unveiled a mysterious NFT featuring a cartoon storage container in Burnt Toast's trademark pastel style. Speculation ran wild as people tried to figure out what kind of utility would come with the Dooplicators. The collection floor hovered around a 3 eth floor the first half of 2022.
At NFT NYC on June 22, 2022, the Doodles team announced that Dooplicators would allow holders to mint a new collection, Doodles 2, on the Flow blockchain. Initial reactions were mixed. Many Ethereum-native collectors didn't want to bridge over to a new blockchain. Others did not see a value in Doodles 2, a collection that would allow users to mint new wearables for their original Doodles NFT.
Since then, Dooplicators have fallen to a .13 eth floor as demand for Doodles 2 failed to meet expectations.
Why did the Doodles founder Poopie lash out?
For the last year or so, the Doodles community have asked the project leaders to communicate more. They were underwhelmed with Space Doodles, Dooplicators, and Doodles 2, and collectively felt like their feedback was being ignored. After yet another long period between updates, the Doodles Twitter account wrote, "we've been listening and we know you want more communication from us. that starts NOW."
Two weeks later on March 15, they tweeted their much-anticipated update.  Dooplicator owners would be able to mint 12 different NFTs, each featuring digital socks, in order to mint another NFT of golden socks. The community was not pleased.
Poopie responded to the negative reaction by posting in the discord that Doodles is no longer "an NFT project" and that "We are not going to spend any resources appeasing those with financial motivations." After a community member told Poopie to buy his Doodles, Poopie responded by saying, "floor it and gtfo," a phrase sure to become a meme in NFT culture.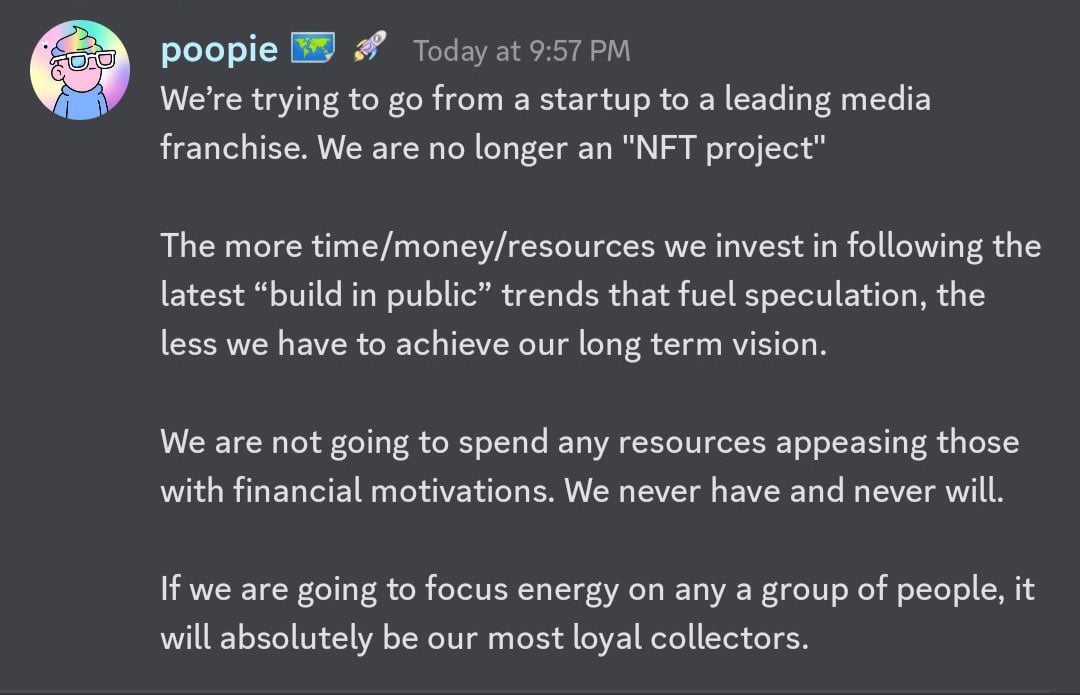 Not surprisingly, Poopie's messages were copy and pasted all over the Twitter timeline. Many people criticized his ability as a project leader accused him of "selling out" after receiving VC funding. The exchange sparked many debates this week.
Some people felt the episode demonstrates the naivete of NFT buyers thinking they have anything beyond a digital collectible. Demanding project founders constantly create value for holding an NFT, they argued, was unrealistic and a recipe for disappointment.
Others believed that Doodles made a fortune from NFT buyers. This group argued that the Doodles team owes a responsibility to communicate regularly, make decisions to help maintain floor prices, and generally do everything that Yuga Labs has done for Bored Ape Yacht Club holders. In other words, come up with inventive ways to grow the ecosystem while preserving the value of the original Doodles collection.
Since then, Poopie has apologized for the GTFO comment and stated that Doodles will continue "to use NFT tech as the connective tissue between everything we do."
Will Doodles be able to fulfill their goal of becoming a successful media brand to emerge from Web3? To have any chance of success, they will need to repair the damage done to the relationship between the team and their community. That mission starts now, let's see what happens.
---
All investment/financial opinions expressed by NFTevening.com are not recommendations.
This article is educational material.
As always, make your own research prior to making any kind of investment.